Description
You are ordering based on the number of approx. 50 - 1 LB packages.
♥️ Nose to tail dining benefits and trends, have you tried them?
♥️ If you are not sure… start with one of our meat / organ blends
♥️ Super fresh organ meats
♥️ Your pets love organ meats too!
♥️ Keep your immune system strong by eating organ meats too
---
Tap the buttons below for more information.
Organs; From Our Pasture to Your Plate™
Taste the Difference, Feel the Difference™
From Our Pasture to Your Plate™ our 100% Pasture Raised and or Grass Fed and Grass Finished Organs provide you with a wide variety of the cleanest 'organic' organ meats available.
We are YOUR farm if you're searching for organ meats that are fresh, vibrant, and rich in vitamins and minerals that aren't artificially enhanced in any way. They don't need to be soaked in milk or buttermilk before they're consumed; they just taste so much better on their own.
Our organ meat comes from animals that have been raised under our strictest humane handling standards and have spent their whole existence on pasture, free to roam.
Our organ meats are handled by hand, packaged by hand and are beautiful!  
Our livestock adore their lives on open, green pastures in South Florida. Our animals are truly living their best life outside in nature as it was intended for them. They really are stress-free, scratching, pecking, rolling around in the mud and sand, and taking long napping!
Our animals thrive and develop strong, healthy immune systems by consuming what is natural to them and by being out in the sunshine. That is the Circle C Farm way!
Treat yourself or your pet to Circle C Farm™ organ meats, which is a total win-win situation for you and your pet. If you don't usually eat organs, try them out; we've included some ideas in our recipes section just to help out.
If you're not quite ready for a full / all-in experience, but still want the benefits of organ meats... We have beef ground and patties with organs already blended in them, so WOO HOO, you get the best of both worlds then try some; we know you'll enjoy them!
Knowing that your road to improving your immune system, health, and wellness starts with the inside out, each day should be filled with foods that simply make you feel better than you did the day before.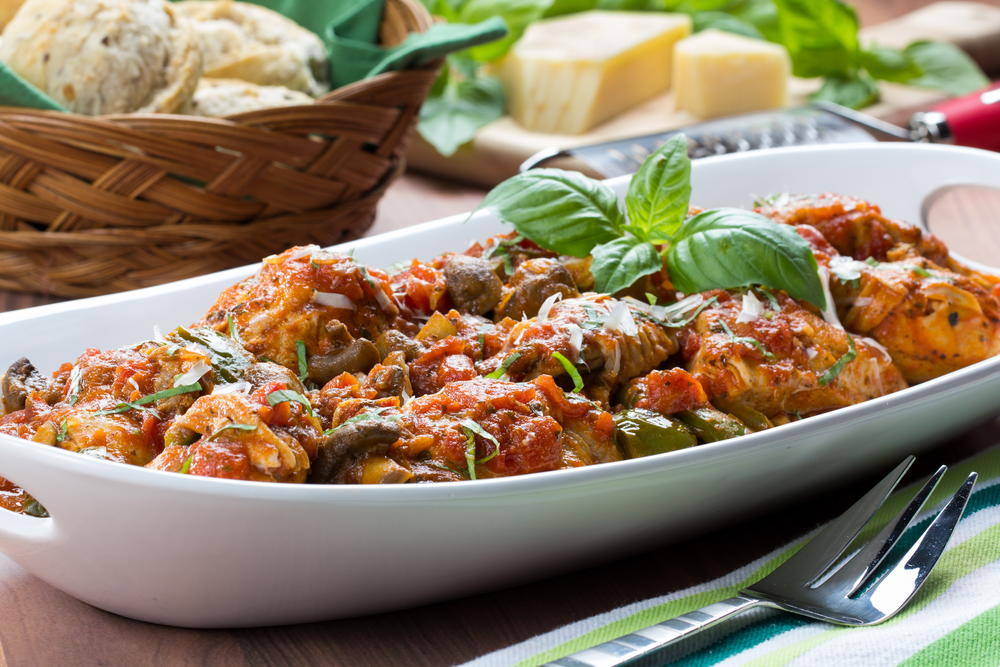 SERVES: 4
COOK TIME: 15 Min
If you've only got 15 minutes to make dinner, then you're going to love this pressure cooker recipe for 15-Minute Chicken Cacciatore. This is a fast and flavor-packed version of a classic Italian dish. Your family is going to devour it!
---
---
All "Coolers of Love" ™ ship from our farm in Felda, FL directly to you via UPS.
Our meat is carefully packed in our recyclable cooler with dry ice, which is designed for this purpose. On the way to you, your meats are likely to come into contact with the dry ice, resulting in tiny holes in the packaging. Take the meat package out of the freezer and put it back into a plastic bag or wrap with aluminum foil, whichever you are most comfortable using.
Just quick reminder, when thawing or defrosting any meat, always place it on a plate or in a bowl in refrigerator for the entire thawing process.
Our goal is always to have our meats arrive to you frozen solid. Depending on time in transit, meats may arrive completely frozen, partially frozen / thawed or even refrigerator cold. That's more rare, but may happen on occasion. As long as refrigerator cold to frozen there's no food safety issue.   You are good to go.
Simply put meats straight into your freezer and prepare when you're ready for them as you normally would. There's no need to panic and cook all the meats up immediately.
There's no food quality issue that will occur as a result of this either.
We put the maximum amount of dry ice allowable as per FAA Regulations and UPS depending on mode of transportation whether by air or ground.
We recognize that some individuals have histamine concerns or issues relative to transportation temperatures. We do the best that we can to get the meat to you frozen solid, however we cannot control things beyond our control. Please place meats into the freezer immediately upon arrival.
For anyone who would like, there is always available an upgrade option to overnight shipping via UPS.
If you would like to do that, please put a note in the Special Instructions box prior to checking out and we will invoice you separately for the upgraded expense for the overnight to your area. The cost or amount of the upgrade for overnight service will very depending on your geographic location.
Payment & Security
Your payment information is processed securely. We do not store credit card details nor have access to your credit card information.