Grassfed Beef Sirloin Roast, Bone Out (Avg. Wt 3 to 4 lbs)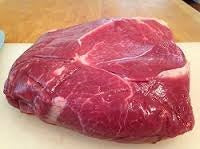 Beef recipes from the farm
Bringing the farm to your table, one delicious recipe at a time.
Awesome tasty roast
This sirloin beef roast was absolutely succulent and so juicy.
I would recommend it everybody to give it a try.
It is pricey but worth it. I rotisserie it in my Emeril Lagasse french
Door oven on 275 degrees for 60 minutes for those of you who might want to know how I cooked it. A beautiful and incredible piece of meat so much flavor
Delicious! More, please.
Excellent roast. Cook as instructed, slow and low, and you will have a roast fit for a king. My husband and I got several meals from the meaty roast, making the price per meal reasonable. Highly recommended!
Grass Fed & Grass Finished Beef Sirloin Roast Bone Out, 3 to 4 lbs.
Great Beef
I recently smoked a Beef Sirloin Roast on my Big Green Egg. It turned out fantastically. We had a family get together and the favorite dish was my smoked pulled beef. The quality of the beef makes all the difference in the world; there is an enormous difference between Circle C Farm beef and regular store bought beef. Circle C Farm has the best meat I have ever tasted.

Taste the Difference, Feel the Difference™
The best tasting, healthiest eggs delivered right to your door

Fast Same Week Shipping
Place Your Orders by Noon on Tuesdays for Fast, Same Week Shipping

From Our Pasture to Your Plate™
100% Pasture Raised Grass Fed and Finished Family Farm

Support Local Farmers
Support YOUR local farmers, we appreicate your business