Grassfed Beef Skirt Steak, INSIDE Cut (AKA Fajita Steak) (Avg. Wt 1 lb)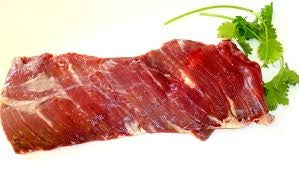 Beef recipes from the farm
Bringing the farm to your table, one delicious recipe at a time.
Delicious and Beefy
Absolute deliciousness in every bite-- this meat has such beefy flavor. I recently used it in making some Korean Barbeque-- it was off the charts amazing!!!
Very tender
This steak was amazing… it's one of my favorites from Circle C!!
Beef Skirt Steak, INSIDE Cut (AKA Fajita Steak) (Avg. Wt 1 lb)
Tried it because on sale
I had never cooked a skirt steak, but like to take advantage of items on sale, so I bought this. Wow, was I happy that I did. I used the Chimmichurri Flank steak recipe on your site to cook it, and it was AMAZING!!! I am in love with skirt steak now. I wish I had bought more, but certainly will in the future! Tender, sweet and perfect for 2 people.
Tender after trimming
The cut I wanted was sold out. So I tried this. There was quite a bit of grissle. I cut away about 1/4 of the steak. The remainder was, however, excellent.

Taste the Difference, Feel the Difference™
The best tasting, healthiest eggs delivered right to your door

Fast Same Week Shipping
Place Your Orders by Noon on Tuesdays for Fast, Same Week Shipping

From Our Pasture to Your Plate™
100% Pasture Raised Grass Fed and Finished Family Farm

Support Local Farmers
Support YOUR local farmers, we appreicate your business