Pastured Pork Ham Steak Cutlet, Bone IN, 1/4" Thick Cut (Avg. Wt 1 lb.)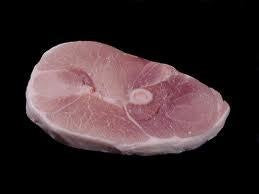 Pork recipes from the farm
Bringing the farm to your table, one delicious recipe at a time.
Delicious flavor
The only kind of ham steak I will eat from now on. Simmered it slowly in some pineapple juice the first time, then with a little maple syrup the second time. Tastes like a cross between pork and ham. Can tell this is higher quality. Wish Circle C also had an even thicker cut of ham steak or half ham, etc.
Uncured, untreated right from Mother Nature ham steak
The ham steak, excuse me, the BONE IN ham steak, is REAL pork, the way that God made the hogs, not the way that Big Agra makes them with corn, soybeans, grain, yada yada. Circle C is God's caretaker of the animal flesh that we eat.
I want everyone who reads this to read Dr. Steven Gundry's book, The Plant Paradox, and learn how Big Agra's chicken, pork, and beef is not good for our gut, where the operational health of the body is centered.
Amazing Pork
Just opened this and had some for breakfast. Very flavorful and the texture is excellent!
Deliciously Fresh
A little salt, 100% pure maple syrup and a 400 degree oven for about 20 minutes and you have a winner!
Very Flavorful
We baked it in the oven with salt and paper. Amazing taste!

Taste the Difference, Feel the Difference™
The best tasting, healthiest eggs delivered right to your door

Fast Same Week Shipping
Place Your Orders by Noon on Tuesdays for Fast, Same Week Shipping

From Our Pasture to Your Plate™
100% Pasture Raised Grass Fed and Finished Family Farm

Support Local Farmers
Support YOUR local farmers, we appreicate your business