Description
You are ordering based on the number of 1- 1.5 lb boneless skinless turkey breasts that you would like.
---
🦃 Inspired by our Pasture Raised Grass Fed and Finished Family Farm
🦃 Support local farmers, we do it right!
🦃 Broad breasted turkeys are the way to go, great meat production and fabulous on pasture.
🦃 Plant based turkeys, they LOVE their grass!
---
Tap the buttons below for more information.
---
Turkey; From Our Pasture to Your Plate™
Taste the Difference, Feel the Difference™. From Our Pasture to Your Plate™ our 100% Pasture Raised Turkeys are going to make you smile!
Our turkeys are known as Ricebirds™ because they eat a special rice-based food. These birds adore their existence in South Florida's open, lush, and green pastures on our family farm. According to nature's plan, our turkeys are really living their best lives outside in nature.
Our turkeys, with their mobile coops, show how regenerative and sustainable farming can work together. They are also nature's rototillers, just like our chickens, as they scratch and peck and turn the ground upside down. They leave behind their "farm love" and "love" fertilizes the soil as they go about in the pastures, much like our chickens do.
Pastured turkeys also benefit from the Maremmas, their livestock guardians dogs (LDGs). The turkeys are more sociable than the chickens and may play with them, but nothing prevents them from eating all day long of the insects, roots, blooms, and anything else they find crawling around on the ground.
Turkeys aren't vegetarians, so they build up their own natural immune systems by eating what is natural to them and thriving in the sunshine while eating a plant-based diet. That's the Circle C Farm™ way!
The Ricebird™ turkey meat we offer is certainly distinctive! We give a rice-based feed that is sourced in Florida and they adore it! Our turkey meat is always fresh, antibiotic-free, hormone-free, and free of pesticides and other contaminants that you wouldn't want in your dinner!
We think that turkey should taste like 'turkey,' and we believe it should have color in the meat, as well as texture. The skin of our turkeys should also be healthy and colorful. We raise our turkeys all year round.
Our turkey meat is light pink and has actual texture in the meat. What's the deal? Because our turkeys actually live outside, they get plenty of fresh air as they grow. Why is it that our turkeys' skin is soft yellow, rather than pure white? It's due to the fact that, as you may already know, sunlight does a turkey good!
All of our turkeys are raised on our farm, and harvested in our USDA-inspected abattoir (slaughterhouse). We take great pleasure in meeting the animals' needs both while they are alive on our pastures and throughout the harvesting process until our meats arrive at your doorstep.
You'll love the wonderful taste of our juicy turkey meat, and you'll be certain where it comes from. On chemical-free pastures, our poultry live a very happy, healthy, stress-free life. There's plenty of data and research out there to suggest that pasture-raised birds are superior in terms of nutrition (and taste) when compared to those turkeys that aren't raised on grass or pasture.
Treat yourself to a delicious meal from a local farm where you can feel good about, knowing that your journey to improve your personal and family health and wellness originated with our farm that also recognizes the importance of eating healthy and knowing your farmer!
If you're looking for a healthier, more ethically-produced turkey meat, ours is ideal for you and will always make your mouth water. When you've eaten all of that pasture-raised goodness, we want you to feel good and full.
We have very happy turkeys!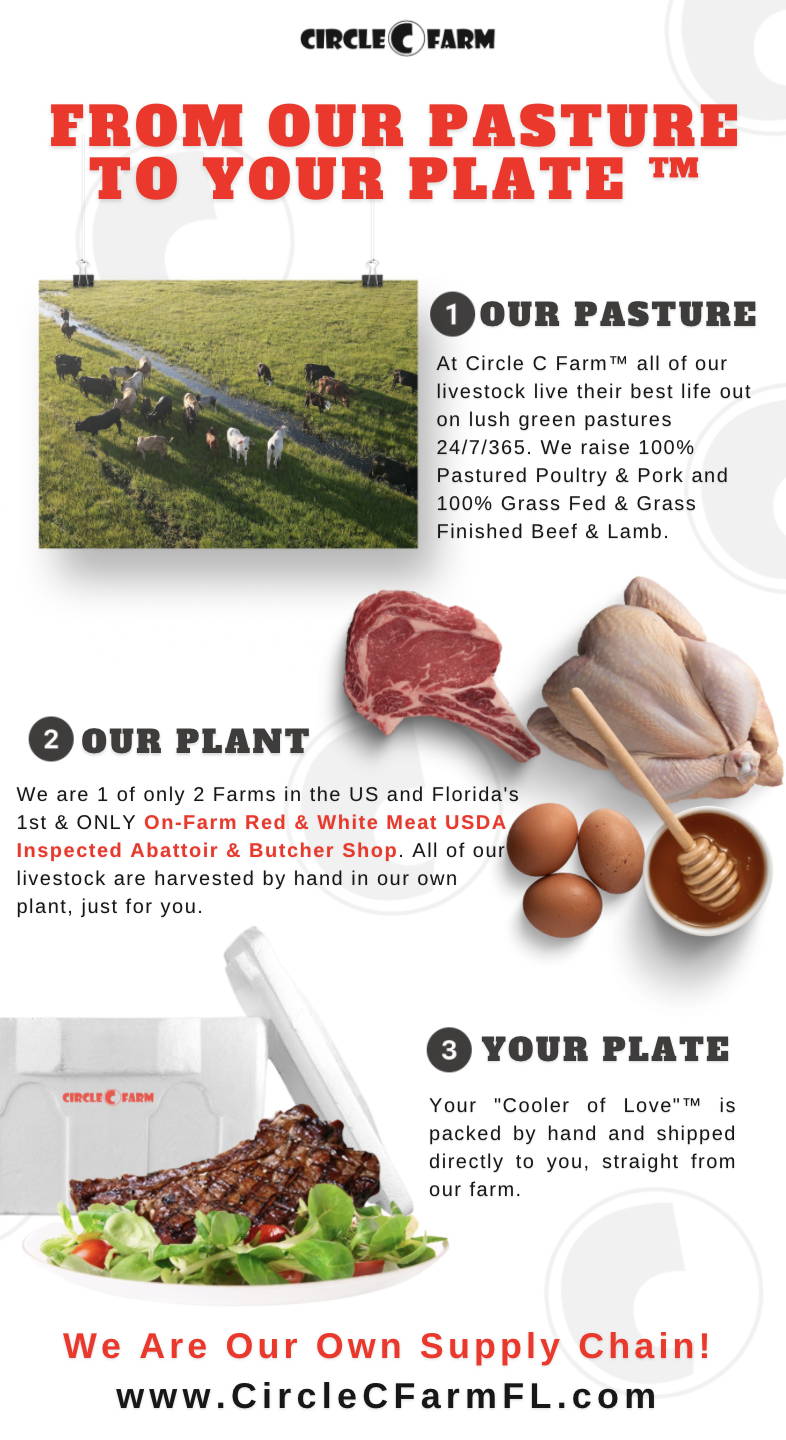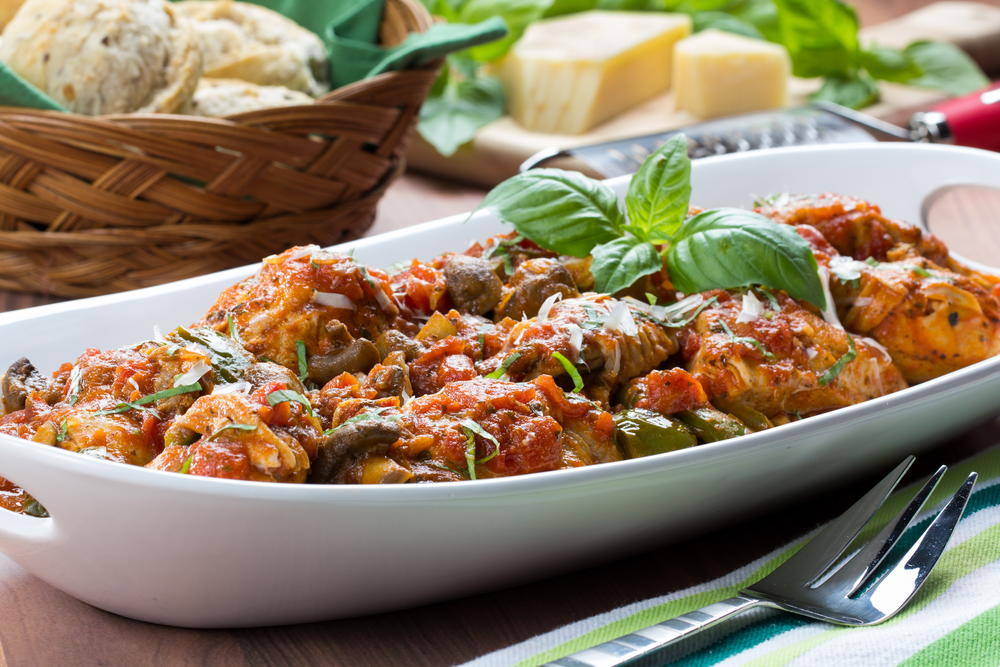 SERVES: 4
COOK TIME: 15 Min
If you've only got 15 minutes to make dinner, then you're going to love this pressure cooker recipe for 15-Minute Chicken Cacciatore. This is a fast and flavor-packed version of a classic Italian dish. Your family is going to devour it!
---
---
All "Coolers of Love" ™ ship from our farm in Felda, FL directly to you via UPS.
Our meat is carefully packed in our recyclable cooler with dry ice, which is designed for this purpose. On the way to you, your meats are likely to come into contact with the dry ice, resulting in tiny holes in the packaging. Take the meat package out of the freezer and put it back into a plastic bag or wrap with aluminum foil, whichever you are most comfortable using.
Just quick reminder, when thawing or defrosting any meat, always place it on a plate or in a bowl in refrigerator for the entire thawing process.
Our goal is always to have our meats arrive to you frozen solid. Depending on time in transit, meats may arrive completely frozen, partially frozen / thawed or even refrigerator cold. That's more rare, but may happen on occasion. As long as refrigerator cold to frozen there's no food safety issue.   You are good to go.
Simply put meats straight into your freezer and prepare when you're ready for them as you normally would. There's no need to panic and cook all the meats up immediately.
There's no food quality issue that will occur as a result of this either.
We put the maximum amount of dry ice allowable as per FAA Regulations and UPS depending on mode of transportation whether by air or ground.
We recognize that some individuals have histamine concerns or issues relative to transportation temperatures. We do the best that we can to get the meat to you frozen solid, however we cannot control things beyond our control. Please place meats into the freezer immediately upon arrival.
For anyone who would like, there is always available an upgrade option to overnight shipping via UPS.
If you would like to do that, please put a note in the Special Instructions box prior to checking out and we will invoice you separately for the upgraded expense for the overnight to your area. The cost or amount of the upgrade for overnight service will very depending on your geographic location.
Delicious!
Ordered this a few weeks ago. It went a long way. 2 meals and 2 pot pies for the freezer.
Just ordered another for Thanksgiving.
Payment & Security
Your payment information is processed securely. We do not store credit card details nor have access to your credit card information.