Serves 4 to 6 adults,Makes 24 deviled eggs
PREP TIME

10 minutes to 15 minutes

COOK TIME

10 minutes to 20 minutes
---
---
12

large eggs

8 ounces

full-fat cream cheese, softened at room temperature for 1 hour or more

1/2 teaspoon

kosher salt

1 grind

black pepper

2 tablespoons

everything bagel seasoning
Hard Boil the Dozen eggs by your preferred method. (The most basic is to cover with cold water, bring to a boil, then remove from the heat and let stand for 8 to 10 minutes.) Drain and cool the eggs in an ice bath. Peel them.

Slice the eggs in half lengthwise and use a small spoon to pop out the yolks and place in a bowl.

Cut the cream cheese into rough pieces and add to the yolks. Use a hand beater or stick blender to blend, starting on low speed and then on high speed, until fluffy and whipped. Beat in the salt and pepper. Taste. Adjust seasonings if desired.

Use a spoon or a piping bag to fill the egg whites with the yolk mixture. (It will be stiff; if necessary microwave in very short bursts of 2 to 3 seconds to soften it even more.)

Sprinkle the tops of the filled eggs generously with the everything bagel seasoning. Serve within two hours.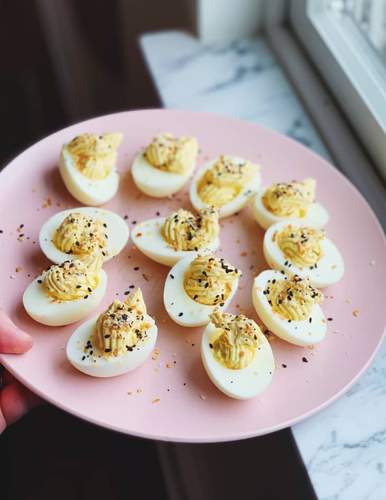 ---
Make-Ahead Instructions: You can make the eggs ahead and refrigerate them at nearly any step in the process, but my favorite way to make them ahead is to put the yolk mixture in a piping bag and refrigerate that separately from the egg whites. When ready to serve, fill and top the eggs with the salt.
Seasonings: I tested these with and without more traditional seasonings for deviled eggs like dry mustard and crumbled bacon. I prefer the simple, luxurious taste of the cream cheese and yolks, no adornment needed. But feel free to add mustard, chives, or other seasonings if you want to punch them up to your taste.
PLEASE MAKE ANY SUBSITUTIONS THAT RELATE TO YOUR ALLERGIES OR DIETARY NEEDS!
Sourced by Kitchn