Pasture Raised Chicken Breast Strips, Boneless/ Skinless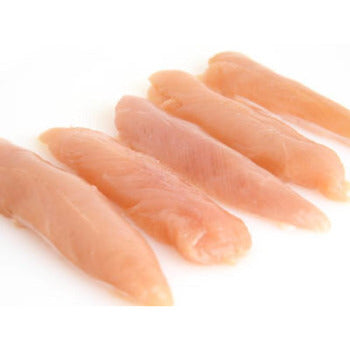 Poultry recipes from the farm
Bringing the farm to your table, one delicious recipe at a time.
Best Chicken Fajitas The Easy Way
ALL chicken from Circle C is delicious, but the boneless, skinless chicken breast strips make preparing dinner a snap! For easy FAJITAS, simply season the chicken strips as desired (we used taco seasoning,) stir-fry them in your favorite sauce (we used smoky barbecue,) add vegetables such as sliced onions, bell peppers, or even nopalitos cactus (our choice.) Once the chicken is cooked through, and the vegetables are tender, remove the pan from the heat. Add a splash of tequila for authentic flavor. and light the mixture with a match. Stir for a few seconds to extinguish any visible flames. This burns off the alcohol, leaving only the tequila flavor behind. Serve the mixture in your choice of tortillas and ENJOY!
Tender, juicy and simply the best!
We absolutely love Circle C's chicken!! You can taste the quality, care and attention that they pour into their farm.
So fresh
I've enjoyed the chicken from Circle C.
It was packaged nicely and the meat was super fresh and tender. This was my first time ordering from a locally sourced farm. I'm a convert! Goodbye Whole Foods!
Delicious!!!!
These chicken strips are amazing! I've grilled them on a grill grate, fried them and pan roasted them. Every time, these little packed full of flavor beauties never disappoint! Thank you Nicole! :)
Fantastic for salads
These little gems are a healthy delicious addition to any salad, especially our summer salad of choice, Amazingly Delicious Ramen Noodle Salad. I season these up with Himalayan salt, fg blk pepper, garlic powder, onion powder, cumin, gr coriander, pinch of cayenne and saute over low heat (4) in a nonstick skillet with a little ghee about 5-6 minutes per side. Turn heat up to Med and brown 2 min per side. Let rest. Serve as is or chop for salads, tacos, etc.

Taste the Difference, Feel the Difference™
The best tasting, healthiest eggs delivered right to your door

Fast Same Week Shipping
Place Your Orders by Noon on Tuesdays for Fast, Same Week Shipping

From Our Pasture to Your Plate™
100% Pasture Raised Grass Fed and Finished Family Farm

Support Local Farmers
Support YOUR local farmers, we appreicate your business