Description
You are ordering by the number of approx. 1 lb packages of ground beef 80/20 that you would like.
---
🥩 Inspired by grass fed and grass finished beef flavor, Taste the Circle C Difference!
🥩 Support local farmers, they feed you everyday!
🥩 On-farm Abattoir for stress free harvesting by hand
🥩 Exceptional humane handling practices
---
Tap the buttons below for more information.
---
Beef; From Our Pasture to Your Plate ™
Taste the Difference, Feel the Difference™.
Circle C Farm's cows are all grass-fed, grass-finished living right here in the Florida sunshine, never having been given hormones, antibiotics or steroids. All of our animals are free range, free grazing, all natural, and non-medicated for any reason.  
Our beef is harvested on farm in our very own private USDA inspected abattoir. This is very important to know, because our cattle are harvested with respect by hand.
Our livestock follow a pasture rotation model, spending day and night on fresh pasture grasses and rotating to fresh pastures every few days.
We provide the highest quality 100% Grass-fed and Grass Finished Beef for you and your family, coming from 'Our Pasture to Your Plate™,' which is beef, as it should be!
Get peace of mind by knowing exactly where your meal comes from. We employ environmentally friendly farming methods that are in keeping with our cattle's natural instincts. Lush grasses from our Florida farm pastures are what our livestock consume 24/7/365.
Grass-fed and grass-finished cattle are simply a more sustainable form of livestock production that is better for the environment, healthier for you, and provides higher quality pasture raised beef.
When you feed your family our 100% Grass fed and grass finished beef that live on our pastures without pesticides or chemicals, you can feel good about what your family is eating at your dinner table.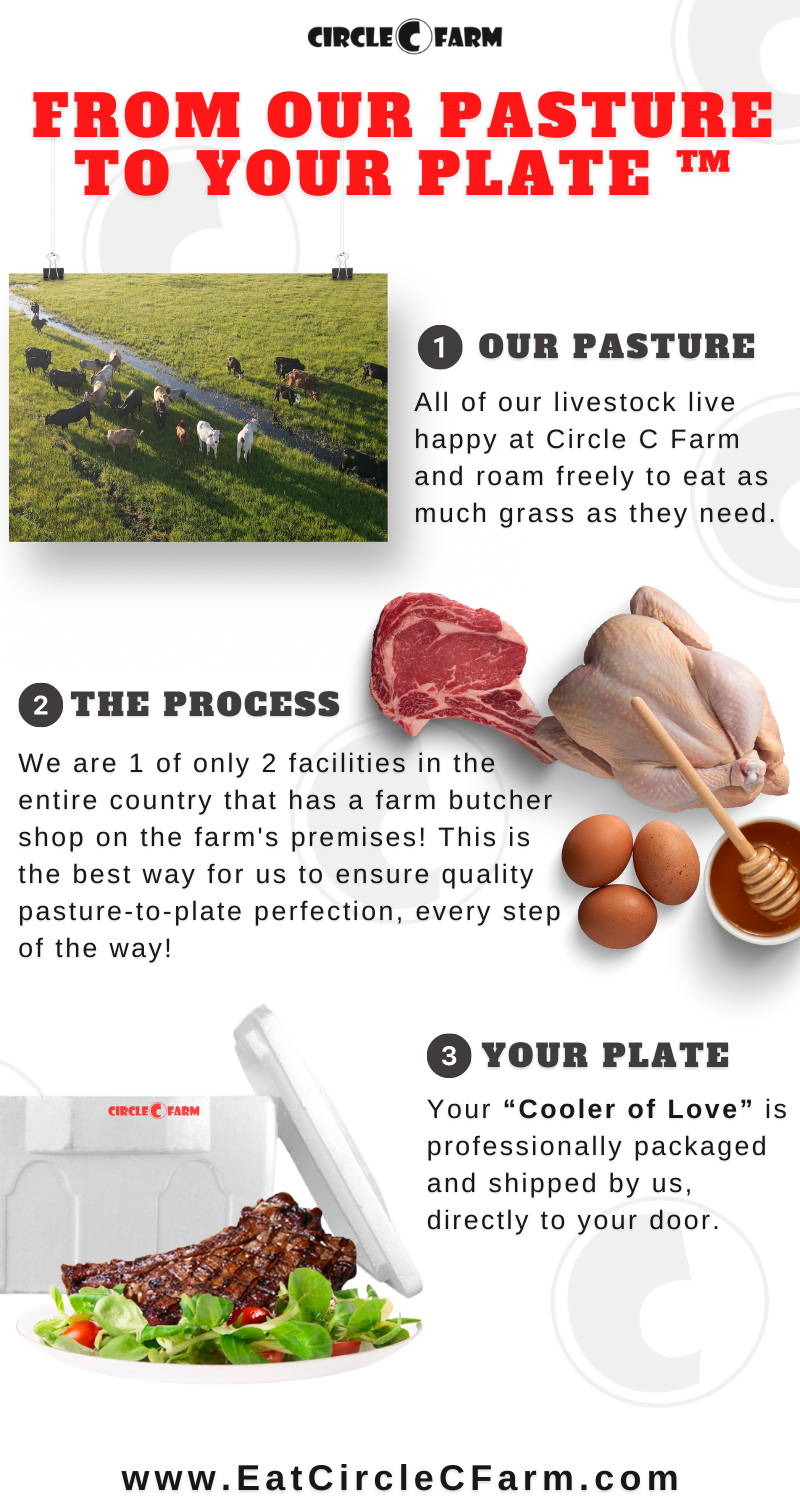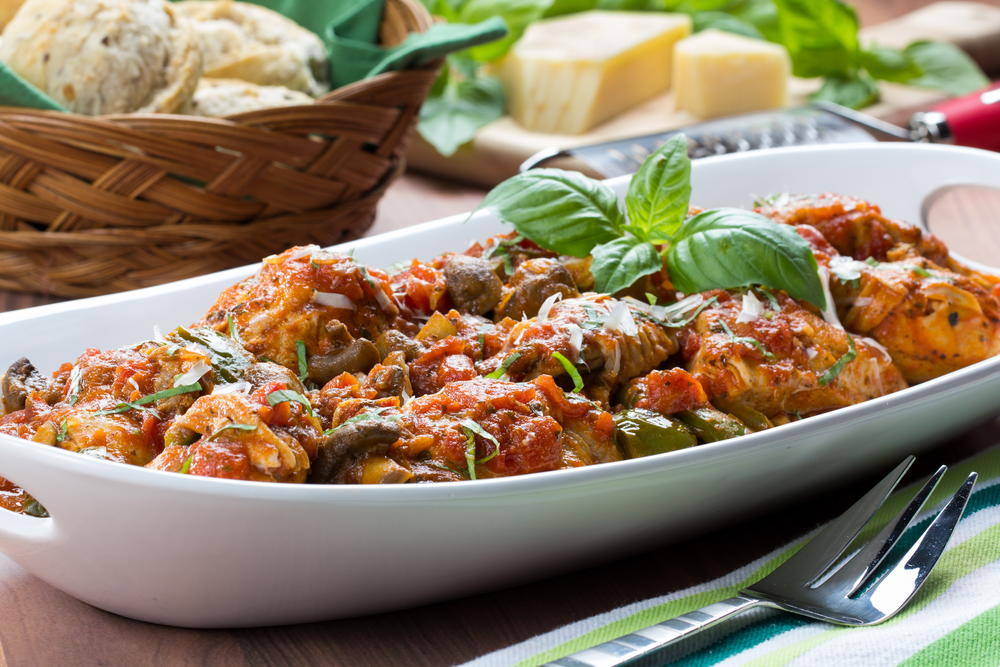 SERVES: 4
COOK TIME: 15 Min
If you've only got 15 minutes to make dinner, then you're going to love this pressure cooker recipe for 15-Minute Chicken Cacciatore. This is a fast and flavor-packed version of a classic Italian dish. Your family is going to devour it!
---
---
All "Coolers of Love" ™ ship from our farm in Felda, FL directly to you via UPS.
Our meat is carefully packed in our recyclable cooler with dry ice, which is designed for this purpose. On the way to you, your meats are likely to come into contact with the dry ice, resulting in tiny holes in the packaging. Take the meat package out of the freezer and put it back into a plastic bag or wrap with aluminum foil, whichever you are most comfortable using.
Just quick reminder, when thawing or defrosting any meat, always place it on a plate or in a bowl in refrigerator for the entire thawing process.
Our goal is always to have our meats arrive to you frozen solid. Depending on time in transit, meats may arrive completely frozen, partially frozen / thawed or even refrigerator cold. That's more rare, but may happen on occasion. As long as refrigerator cold to frozen there's no food safety issue.   You are good to go.
Simply put meats straight into your freezer and prepare when you're ready for them as you normally would. There's no need to panic and cook all the meats up immediately.
There's no food quality issue that will occur as a result of this either.
We put the maximum amount of dry ice allowable as per FAA Regulations and UPS depending on mode of transportation whether by air or ground.
We recognize that some individuals have histamine concerns or issues relative to transportation temperatures. We do the best that we can to get the meat to you frozen solid, however we cannot control things beyond our control. Please place meats into the freezer immediately upon arrival.
For anyone who would like, there is always available an upgrade option to overnight shipping via UPS.
If you would like to do that, please put a note in the Special Instructions box prior to checking out and we will invoice you separately for the upgraded expense for the overnight to your area. The cost or amount of the upgrade for overnight service will very depending on your geographic location.
The best ground beef
I made chilli with my ground beef. I am confident that the quality and flavor of this beef is beyond words. Will always trust this farm.
Ground Beef 80/20
Another awesome meat product from Circle C! I bought 80/20 ground beef and it tastes great. So different from grocery store meats. The best part is knowing the cows (cattle?) have been fed well and treated kindly during their lifetime.
I'll continue buying from Circle C as long as they keep selling and I can get their products. I've never been disappointed by anything I purchased from them.
Ground beef 5 Starzzzz
As Usual....It always makes me feel really Really good to know that I'm getting the absolute Healthiest and BEST Meat Possible..
Needless to say Deeeelicious!!!!!
Love and thank you Circle C Farm❤🌟❤🌟❤🌟❤🌟❤🌟❤🌟❤🌟😚🌟
Great ground beef !!
Had it yesterday, made stuff peppers.. very good.. will buy again..
Clean meat?
I didn't know it was possible for meat to actually taste 'clean', but it did!
When slowly sautéing the two for my stuffing recipe it didn't have that fatty yucky meat smell!
We are extremely pleased with Circle-C's products!
Payment & Security
Your payment information is processed securely. We do not store credit card details nor have access to your credit card information.