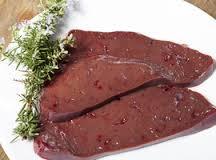 Beef recipes from the farm
Bringing the farm to your table, one delicious recipe at a time.
So tender and delicious!
This grassfed beef liver rivals any from childhood memory when our family ate liver on a regular basis. I did NOT soak the grassfed liver in milk, as it was beautifully cut and very supple. I did, however, saute the liver in leftover pastured bacon fat in my cast iron skillet along with a yellow onion halved and sliced in thin wedges. Seasoning was simple, Himalayan salt and fresh ground black pepper. Sides were steamed asparagus and a roasted sweet potato. We're going to do this monthly (my husband's suggestion) 😍
Grassfed Beef Liver, 1 lb
Very tasty
The liver was delicious, just sliced too thin for my taste. I like a thin breading fried crispy without over cooking the liver so for me thicker is better. I didn't have any reg flour so I ended up using coconut flour and it was very good. Nicely packaged and fast delivery.
Great
Great product, fast delivery. Will definitely reorder
favorite beef liver
Liver isn't my favorite, but it's my body's favorite multivitamin! This is the only liver that's sliced super thin thereby making it super easy to break off small portions as needed each day.

Taste the Difference, Feel the Difference™
The best tasting, healthiest eggs delivered right to your door

Fast Same Week Shipping
Place Your Orders by Noon on Tuesdays for Fast, Same Week Shipping

From Our Pasture to Your Plate™
100% Pasture Raised Grass Fed and Finished Family Farm

Support Local Farmers
Support YOUR local farmers, we appreicate your business