Pasture Raised Chicken Hearts 1 lb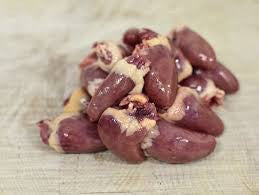 Poultry recipes from the farm
Bringing the farm to your table, one delicious recipe at a time.
Awsome service. Fast delivery
Thank you for doing what you do. We all need good food! Thank you very much for your services
So delicious
I love eating chicken hearts. For me its my favorite food. These hearts are simply tasty n perfect 🥰 ill order again.
Very tasty
Delicious! Will order again Shipping very fast, solidly frozen and well packed.
Very high quality. I feed them to my cat who has moderate kidney disease. They provide taurine for her which cats do not have but need. Natural so much better than powdered.
Chicken hearts
The hearts are simply delicious. So happy that I found your company!

Taste the Difference, Feel the Difference™
The best tasting, healthiest eggs delivered right to your door

Fast Same Week Shipping
Place Your Orders by Noon on Tuesdays for Fast, Same Week Shipping

From Our Pasture to Your Plate™
100% Pasture Raised Grass Fed and Finished Family Farm

Support Local Farmers
Support YOUR local farmers, we appreicate your business