Pasture Raised Chicken Skin 2 LB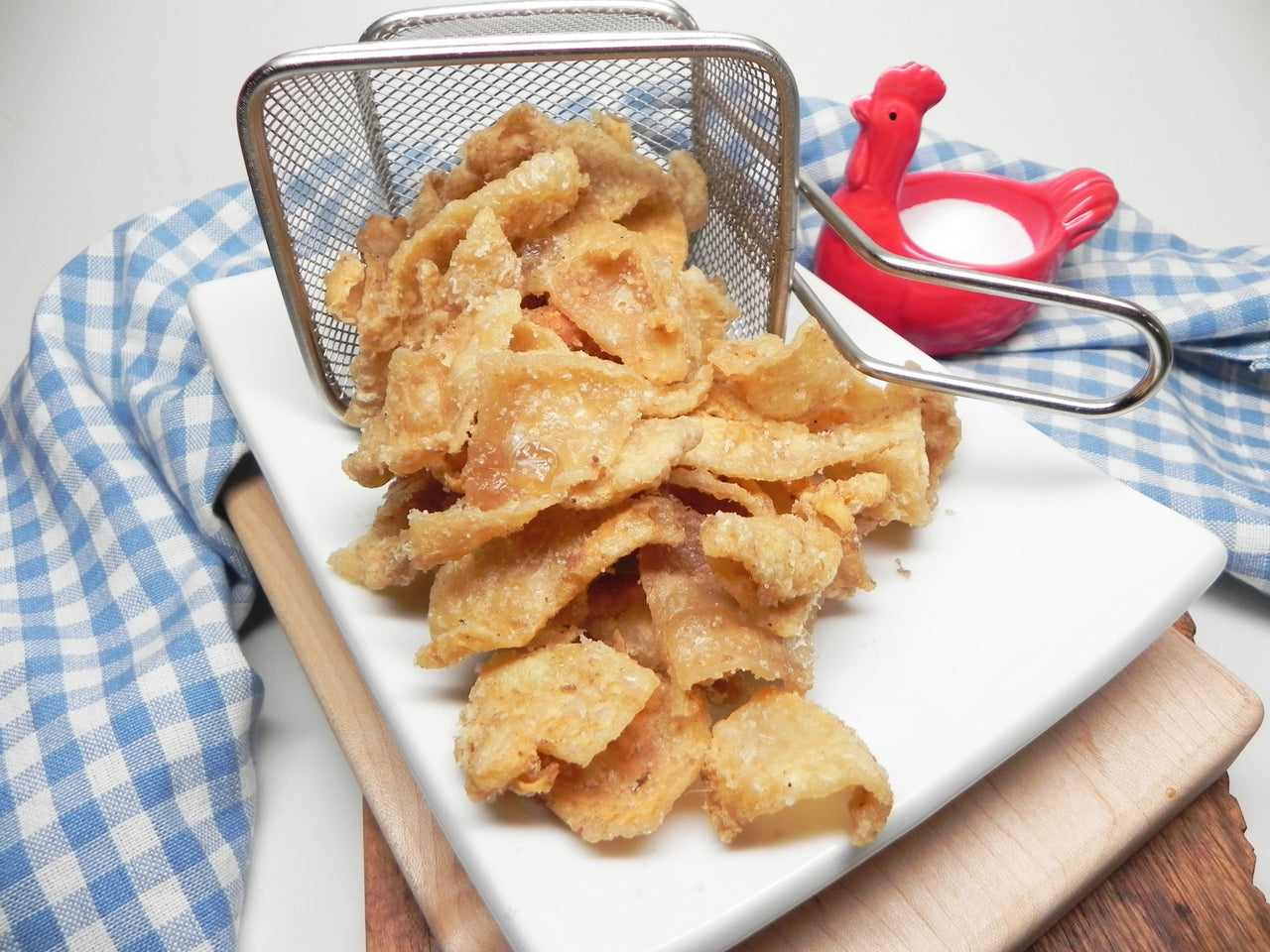 Poultry recipes from the farm
Bringing the farm to your table, one delicious recipe at a time.
Love Chicken Skins!!!
Ordered 6lbs of chicken skins. most of the skins are from the leg part. Most of the fat is gone. they are thin. Overall baked in the oven till crispy - they were awesome! I also got 2lbs of chicken hearts, They were breaded and fried. Packing was done well, they arrived on a very hot day (100) still frozen. I am very satisfied and happy with my order. P.S. the cats loved the boxes and the foam lining was cut and used to make small pillows!
HOOKED!!
So clean and yummy! So hooked on this skin-just season it with redmond salt and let it cook in its own fat. I usually double fry it so it retains the crispiness.
SO Tasty
The chicken skins were most delicious!
Super Crisp and delicious snack!!
I defrosted them. Stretched them out on racks and froze them individually. then put them all frozen and flattened out in big ziploc. Cook 1 or 2 in air fryer until crispy and season them with whatever seasonings you like, I tried Salt N Vinegar and Lemon Pepper, and just salt and pepper. let them get super crispy and they are just so delicious!
Bake em with salt.
Where your chicken skin comes from makes a difference. I spread mine out on a baking sheet and baked them at 400 until crisp and done. Yum!

Taste the Difference, Feel the Difference™
The best tasting, healthiest eggs delivered right to your door

Fast Same Week Shipping
Place Your Orders by Noon on Tuesdays for Fast, Same Week Shipping

From Our Pasture to Your Plate™
100% Pasture Raised Grass Fed and Finished Family Farm

Support Local Farmers
Support YOUR local farmers, we appreicate your business