Description
You are ordering by the number of total whole chickens.
Whole Chicken Broiler. 
---
Circle C Farm is a Family Farm in Florida that Raises 100% Free-ranging Pastured Poultry
These delicious Ricebirds™ consume both insect, bugs, and grubs from our pasture as well as a balanced rice diet supplied by us in Florida.
---
🐤 Circle C Farm chickens are raised on pasture 24/7/365 in mobile coops
🐤 Pastured chickens are pretty amazing, they can eat down an area of grassy pasture in a matter of days, really, they LOVE the stuff!
🐤 Pasture chicken meat contains 50% more vitamin A, (which supports your immune system, vision, and more) than conventionally raised chicken
🐤 Pastured chicken meat has significantly less fat overall, around 30% less saturated fat!
---
Tap the buttons below for more information.
---
Chicken; From Our Pasture to Your Plate™
Taste the Difference, Feel the Difference™. Our 100% Pasture Raised Chicken are always free ranging on open lush and green pastures here on our farm in South Florida. Our broiler chickens are truly living their best life outside in the natural environment the way nature intended them to do.  
Our livestock are a model example for both regenerative and sustainable agriculture. Our chickens are like nature's rototillers as they scratch and peck and turn the ground upside down, they leave behind their 'farm love' and that 'love' fertilizes the ground as they move about in the pastures. They live in open mobile coop houses, specifically designed to be moved every few days to provide additional access to even more fresh grass, allowing for the whole farm to be positively impacted by their hard work and labor eating all of the flowers and bugs.
Our pastured chickens have their very own Maremmas, their livestock guardian dogs (LGDs), to keep them safe as they enjoy eating all of the bugs, grubs, flowers and anything else they find crawling around outside on the ground. Chickens are not vegetarians and they should be able to grow strong and healthy, maintaining their own natural immune systems by eating what is natural to them and by being out in the sunshine thriving. That is the Circle C Farm way!
Our pastured Ricebird™ chicken meat is different! We feed a rice-based feed that is Florida sourced and they LOVE it! Our chicken meat is always fresh, free of antibiotics, hormones, steroids, and anything else that you would not want in your meat! We believe that chicken should taste like 'chicken' and it should have color in the meat and texture too, the skin should be healthy and colorful too. Our chickens 'glow' naturally!
We also believe, because we 'taste the difference' that chicken should be nourishing from the inside out and should leave you feeling better and satisfied when you are done enjoying it. Our chicken meat is a soft pink and the skin is a soft yellow. Why? Well, it is because our chickens actually live outside and enjoy the fresh air as they grow. Sunshine does a chicken body good!
Where is our Pasture Poultry Harvested?
All of our poultry are harvested on our farm in our very own private USDA Inspected Abattoir (slaughterhouse) and Butcher Shop. We harvest by hand, we take a tremendous amount of pride in our humane handling of our livestock and we respect the animals both while they are alive on our pastures and throughout the harvesting process all the way through until our meats arrive at your door.
You'll savor the delicious taste of our tender chicken meat and be confident in knowing where your meat comes from. Our chickens live a happy, healthy, stress-free lifestyle on chemical and pesticide free pastures, they are the original plant based meats. There is plenty of data and research out there that has proven that pasture raised poultry are known for their higher nutritional value as compared to poultry that are not raised out on grass and pasture.
Taste the Difference, Feel the Difference™
Treat yourself to a Circle C Farm™ meal that you can feel good about, knowing that your journey to enhance your personal and family health and wellness comes from a local farm that also values the benefits of eating right and the importance of knowing your farmer!
If you're looking for healthy, ethically-raised chickens online, then ours is perfect for you and will always make your mouth water.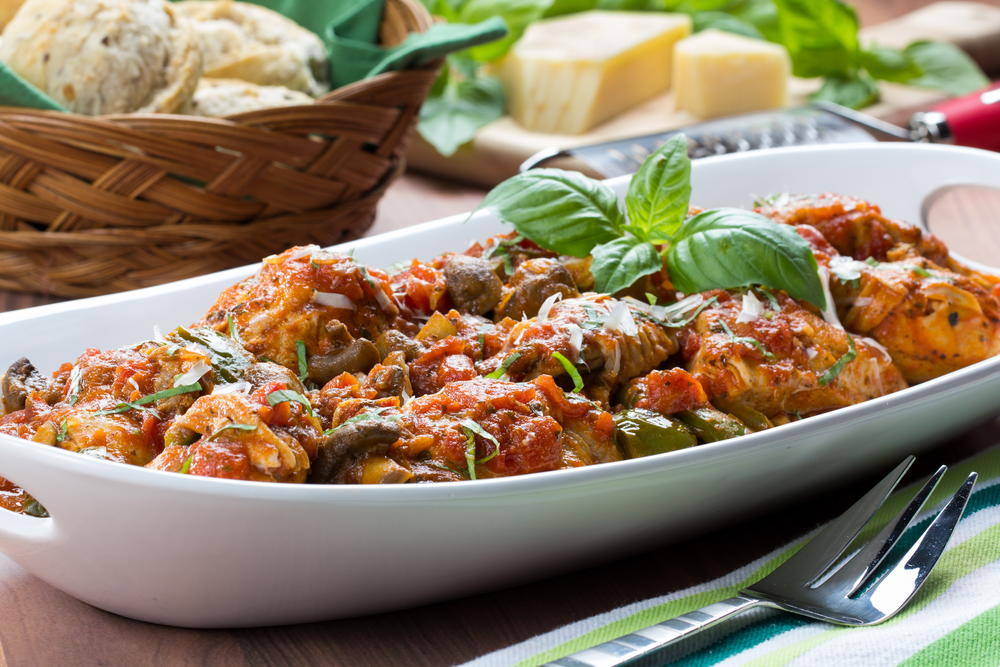 SERVES: 4
COOK TIME: 15 Min
If you've only got 15 minutes to make dinner, then you're going to love this pressure cooker recipe for 15-Minute Chicken Cacciatore. This is a fast and flavor-packed version of a classic Italian dish. Your family is going to devour it!
---
---
All "Coolers of Love" ™ ship from our farm in Felda, FL directly to you via UPS.
Our meat is carefully packed in our recyclable cooler with dry ice, which is designed for this purpose. On the way to you, your meats are likely to come into contact with the dry ice, resulting in tiny holes in the packaging. Take the meat package out of the freezer and put it back into a plastic bag or wrap with aluminum foil, whichever you are most comfortable using.
Just quick reminder, when thawing or defrosting any meat, always place it on a plate or in a bowl in refrigerator for the entire thawing process.
Our goal is always to have our meats arrive to you frozen solid. Depending on time in transit, meats may arrive completely frozen, partially frozen / thawed or even refrigerator cold. That's more rare, but may happen on occasion. As long as refrigerator cold to frozen there's no food safety issue.   You are good to go.
Simply put meats straight into your freezer and prepare when you're ready for them as you normally would. There's no need to panic and cook all the meats up immediately.
There's no food quality issue that will occur as a result of this either.
We put the maximum amount of dry ice allowable as per FAA Regulations and UPS depending on mode of transportation whether by air or ground.
We recognize that some individuals have histamine concerns or issues relative to transportation temperatures. We do the best that we can to get the meat to you frozen solid, however we cannot control things beyond our control. Please place meats into the freezer immediately upon arrival.
For anyone who would like, there is always available an upgrade option to overnight shipping via UPS.
If you would like to do that, please put a note in the Special Instructions box prior to checking out and we will invoice you separately for the upgraded expense for the overnight to your area. The cost or amount of the upgrade for overnight service will very depending on your geographic location.
Nice Chicken
the last chicken I received was a good one. Pretty much perfect.
This Bird Has Attitude
This chicken has a beautiful taste and the quality of meat is unparalleled. This bird has some serious attitude!
Whole chicken
The whole chicken are delicious but the thighs are a bit tough, which is of course normal for pastured chicken. I needed to roast it for longer while protecting the breast with foil so they wouldn't get dry
Great place a++++
We shop here at often. Love the chicken love the lamb love all of the meat choices.
Payment & Security
Your payment information is processed securely. We do not store credit card details nor have access to your credit card information.