Pastured Pork BUTT Roast (Bone In) Upper Portion Of The Shoulder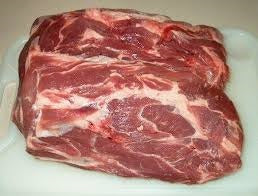 Pork recipes from the farm
Bringing the farm to your table, one delicious recipe at a time.
So delicious
Reminds me of Noche Buena of my childhood. Dad got it straight from a farm, when farms were farms for the people, not for the big Ag industry.
Hog heaven
This is one of the best pork shoulders you can buy!
Pork Butt Roast
We used our pressure cooker and the pork butt came out so favorful and tender. It was amazing!!
Pork Butt Roast
Delicious! I cooked it in the crockpot with a vinegar based BBQ sauce. Yummy!
The Best Pork Butt
The only way I prepare this pork butt is to smoke it, low and slow (225 Deg.). Circle C Pork Butt is by far the best I have ever had. It is my family's go-to meal for get-togethers. For example, for Christmas Eve I have between 22 and 26 people over for dinner every year and the group favorite is the smoked pulled pork butt; I smoke two pork butts and I usually serve this on fresh rolls. It takes over 12 hours but it is well worth it. This is so good you do not need BBQ sauce.

Taste the Difference, Feel the Difference™
The best tasting, healthiest eggs delivered right to your door

Fast Same Week Shipping
Place Your Orders by Noon on Tuesdays for Fast, Same Week Shipping

From Our Pasture to Your Plate™
100% Pasture Raised Grass Fed and Finished Family Farm

Support Local Farmers
Support YOUR local farmers, we appreicate your business