Pastured Pork Sausage Mild With Sage Large Links (Avg. Wt 1 lb)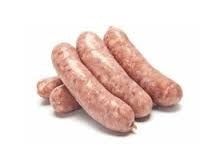 Pork recipes from the farm
Bringing the farm to your table, one delicious recipe at a time.
Pork sausage with sage made my thanksgiving stuffing scrumptous
I bought the pork sausage with sage especially for Thanksgiving to use in a sour dough stuffing. It not only smelled great but made the stuffing taste delicious.
Super Pork
Made the best pulled pork ever. Thank you!

Taste the Difference, Feel the Difference™
The best tasting, healthiest eggs delivered right to your door

Fast Same Week Shipping
Place Your Orders by Noon on Tuesdays for Fast, Same Week Shipping

From Our Pasture to Your Plate™
100% Pasture Raised Grass Fed and Finished Family Farm

Support Local Farmers
Support YOUR local farmers, we appreicate your business