Description
You are ordering based on the total number of 5-6 lb. roasts
1 Quantity = 1 x 5-6 lb roast
---
🐷 Heritage pork and heritage pork crossed breeds
🐷 Pasture raised pigs are the coolest pigs to raise, hands down!
🐷 In addition to being lower in calories and total fat, pasture-raised foods have higher levels of vitamins and a healthier balance of omega-3 and omega-6 fats than conventional meat
🐷 We raise our pigs on pasture because they are happier and healthier, which is a difference that YOU can TASTE!
🐷 Check out our pig videos, they will make you 'snort!'
---
Tap the buttons below for more information.
---
Pastured Pork; From Our Pasture to Your Plate™ 
We are "oinkingly" enthusiastic about our pigs and how they live here at Circle C Farm™. Our 100% pasture-raised pigs are given plenty of grassy fields to run around on. Our pork comes from carefree, happy pigs who have been raised properly and with respect, having ample space to run around in, mud to play in and plenty of sunshine too!
Key Benefits of Pastured Pork from Circle C Farm™
🐷 Pork from 100% pasture-raised pigs is high in iron, niacin, and vitamins B6 and B12.
🐷 Circle C Farm™ pork comes from happy pigs that have been raised humanely on our family farm in the warm sunshine here in south Florida.
🐷 Antibiotics, steroids, and hormones are never given to our pasture-raised pigs or any of our livestock because they are not needed or necessary; especially when you have naturally healthy animals like we do!
🐷 Pork that has been raised on pasture is simply delectable! It's naturally full of flavor, and the fat structure is incredible!!!! Our pork is so juicy and delicate that you won't be able to get enough.
🐷 Quality inspected in our own private USDA Federally Inspected Abattoir.
🐷 It's difficult for many individuals to get their hands on fresh pasture-raised pork meat from a local butcher, but not if you have your own farmer who grows and butchers just for you and who makes sure it gets delivered right to your front door!
🐷 If you're searching for a box of deliciousness that's actually plant-based, we recommend trying our 'organically' raised meats; you'll swear you've died and gone to heaven!
🐷 Our pastured pork is unique! We offer an all natural diet to our pigs, that also includes our rice based feed, so we affectionately call our pork meat Ricepork.™ Our on-farm USDA

🐷 Federally Inspected Abattoir and Butcher Shop cuts our pork meat by hand, so you really are getting the personalized butchering experience and the convenience of having it shipped right to your door each week.
🐷 If you wish to maintain your health and wellbeing while enjoying the distinct taste of pasture-raised meats, our pork is for you.
🐷 When you eat our meats, you can rest comfortably knowing that you received the best quality pasture-raised pork. Visit www.CircleCFarmFL.com or our Farm Store in Bonita Springs, FL right now to buy online.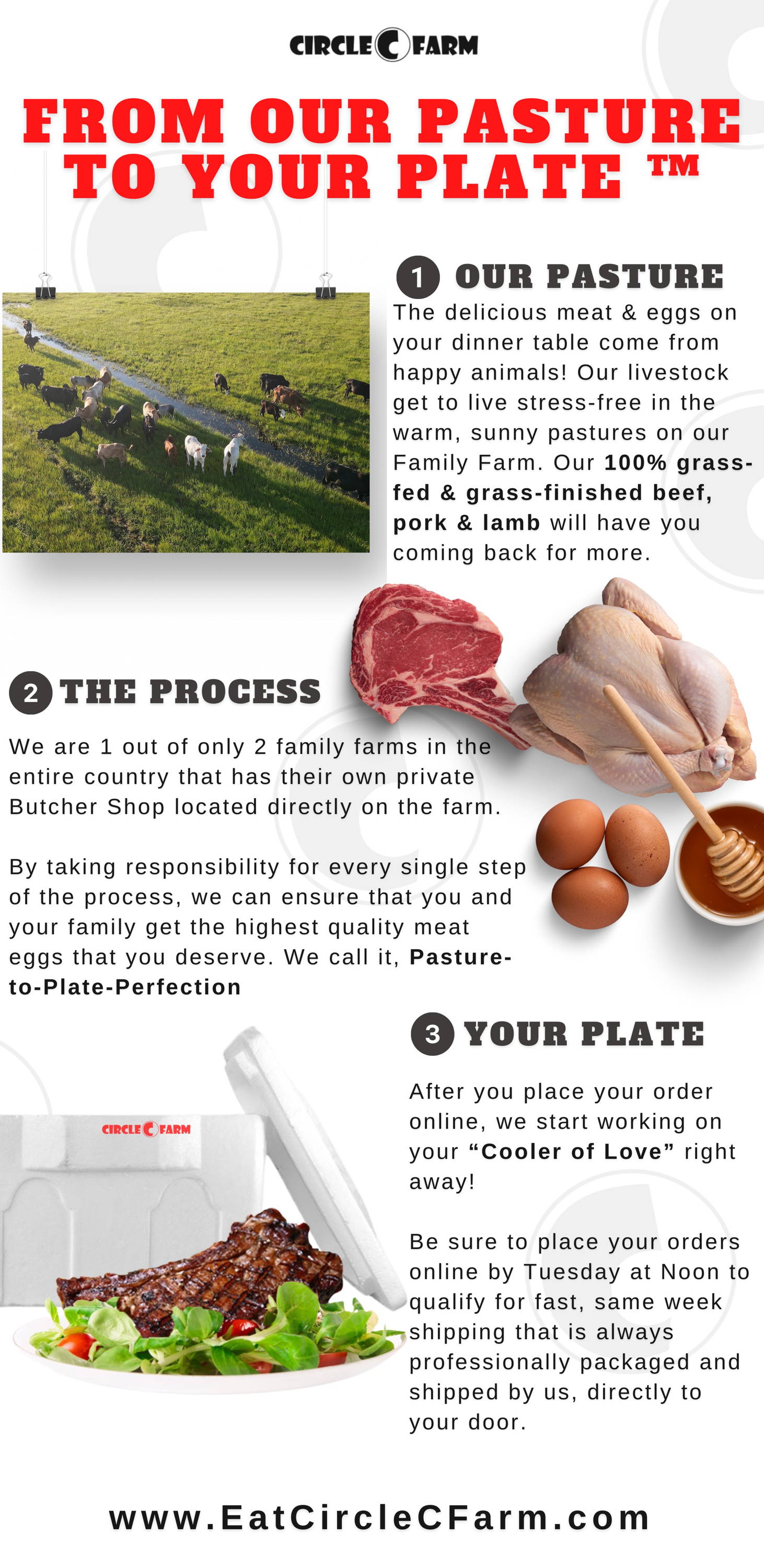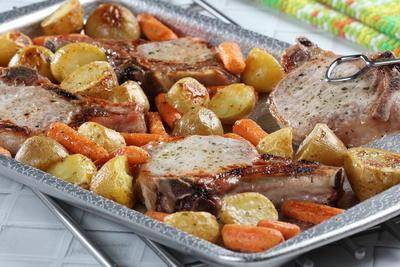 You'll love this sheet pan dinner 'cause it's so easy to make and clean. The whole family will love it 'cause it's so tasty! Our Pork Chop Sheet Pan Dinner is an all-in-one, no-fuss meal that's fit for a hungry family. Hearty pork chops, potatoes, and carrots are seasoned with yummy ranch dressing, which makes for a flavorful meal. You'll definitely want to add this sheet pan dinner to your weeknight dinner line-up.
WHAT YOU'LL NEED
1

/2 pound small potatoes, cut into quarters
8 ounces petite carrots
3 tablespoons olive oil, divided
1 (1-ounce) package dry ranch dressing and seasoning mix, divided
4 bone-in center cut pork chops, about 1/2-inch thick
WHAT TO DO
Heat oven to 375 degrees F. Coat a baking sheet with cooking spray.

In a bowl, combine potatoes, carrots, and 2 tablespoons oil; toss with 2 tablespoons dry ranch dressing mix until evenly coated. Place on baking sheet.
Brush pork chops with remaining 1 tablespoon oil and sprinkle evenly with remaining dressing mix. Arrange pork chops between potatoes and carrots on baking sheet.
Bake 25 minutes or until pork is no longer pink in center and vegetables are tender, turning pork halfway through cooking.
---
---
All "Coolers of Love" ™ ship from our farm in Felda, FL directly to you via UPS.
Our meat is carefully packed in our recyclable cooler with dry ice, which is designed for this purpose. On the way to you, your meats are likely to come into contact with the dry ice, resulting in tiny holes in the packaging. Take the meat package out of the freezer and put it back into a plastic bag or wrap with aluminum foil, whichever you are most comfortable using.
Just quick reminder, when thawing or defrosting any meat, always place it on a plate or in a bowl in refrigerator for the entire thawing process.
Our goal is always to have our meats arrive to you frozen solid. Depending on time in transit, meats may arrive completely frozen, partially frozen / thawed or even refrigerator cold. That's more rare, but may happen on occasion. As long as refrigerator cold to frozen there's no food safety issue.   You are good to go.
Simply put meats straight into your freezer and prepare when you're ready for them as you normally would. There's no need to panic and cook all the meats up immediately.
There's no food quality issue that will occur as a result of this either.
We put the maximum amount of dry ice allowable as per FAA Regulations and UPS depending on mode of transportation whether by air or ground.
We recognize that some individuals have histamine concerns or issues relative to transportation temperatures. We do the best that we can to get the meat to you frozen solid, however we cannot control things beyond our control. Please place meats into the freezer immediately upon arrival.
For anyone who would like, there is always available an upgrade option to overnight shipping via UPS.
If you would like to do that, please put a note in the Special Instructions box prior to checking out and we will invoice you separately for the upgraded expense for the overnight to your area. The cost or amount of the upgrade for overnight service will very depending on your geographic location.
Delicious!
The best pork shoulder we've had. On top of that, we had this delivered to our vacation home and your staff went out of their way to make sure it was delivered to us on time. Many thanks for everything you do to keep us and the environment healthy and for honoring your animals from beginning to end.
Worth every penny
The pork shoulder and everything I receive from Circle C is always fabulous. To know their animals are treated and cared for so well means a lot to me and the qualify of food they have. Whether we smoke the pork shoulder, make my version of carnitas or anything else it's always perfect and you can taste the difference. Thank you Circle C for making a superior product.
Haven't Cooked it yet
But boy does it look yummy can't wait saving it for st Patrick's day Ask me afterwards. But this is a great company
Out of this world
Moist, juicy & delicious!
Great Pork
Circle C Pork is by far the best I have ever had. Slow smoking a Pork Picnic Shoulder has to be one of my favorite things to do - the whole family loves it.
Payment & Security
Your payment information is processed securely. We do not store credit card details nor have access to your credit card information.